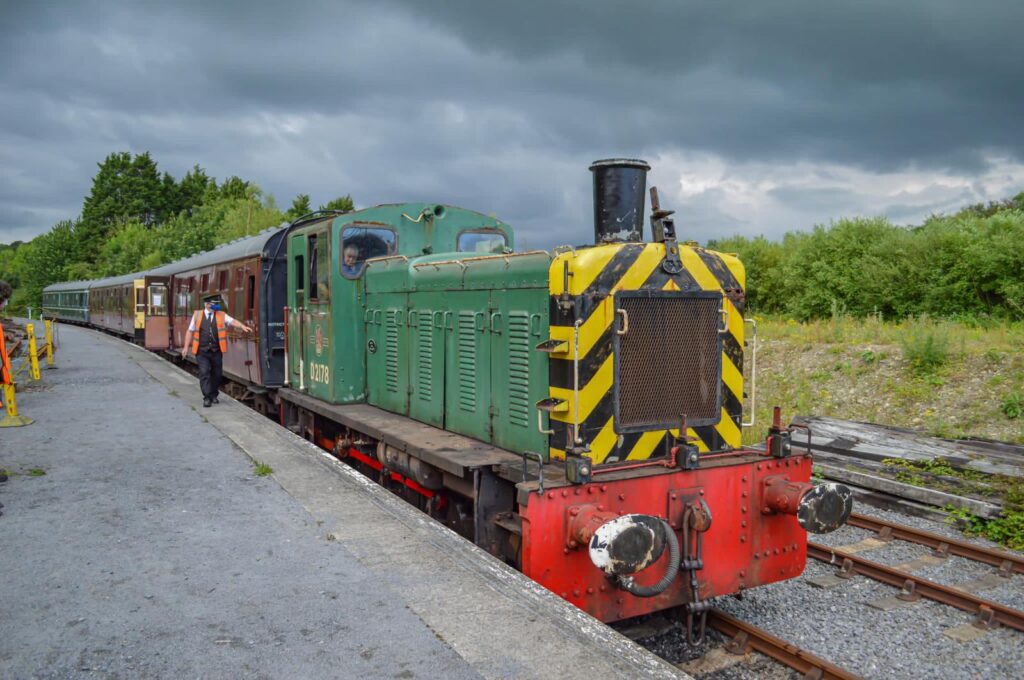 As the standard 204 bhp diesel mechanical light shunting locomotive, more than 200 members of the 03 class were built in BR workshops from 1957 onwards. They were seen all over the BR network, mainly on shunting, dock and branch line service. Several examples were modified with lower cabs to work the Burry Port & Gwendraeth Valley lie in Carmarthenshire with it's low bridges. D2178 was built at the former GWR works in Swindon in 1961 and entered service at Ashford, Kent in 1962 although its career with British Rail was short. It was later allocated to Plymouth Friary, Prymouth Laria and Oxford before being withdrawn in 1969.
After sale by British Rail, D2178 came to Wales when it was purchased by A. R. Adams & Co of Newport and went on industrial hire between February 1970 and July 1972. In May 1974, it was purchased by National Smokeless Fuels Ltd for service at their Coed Ely coking plant and in 1979 it was overhauled at British Rail Swindon Works. It worked until 1983, when it was transferred, unserviceable to the Caerphilly Railway Society.
Following the move to the Gwili Railway in 1996, it was restored to working order and has seen regular service ever since.
Information Panel
Built: BR Workshops, 1961
Power Plant: 204 bhp Gardner 8L3
Transmission: Vulcan-sinclair Type 23 fluid coupling, Wilson Drewry CAS type, 5 speed epicyclic gearbox
Driving wheels: 3' 7"
Weight: 30t 16cwt